Ever had so many ideas for stories in your head that you feel like you might just explode?
I have but it was mostly when I was teen. Lately, I've been picking up the pace a bit more and it feels amazing for my creative head space.
So far, I've had three novel ideas. That is, for young adult fiction – the market I desperately want be in. I've had a couple of ideas for a sci-fi novel or two as well. But these require a lot of research and I'm not sure my brain's cut out for all that right now. I'm thinking perhaps in my late twenties is when I'll hit my sci-fi writing stride. A lot of my ideas involve space travel, time travel and if I'm really indulgent then a little bit of dinosaurs too. But I'll save that for another time.
Anyway, I'm getting off topic.
So, like any writer does, I scribble these ideas down. I have an abundance of notebooks. And these tiny put-away-like-they're-nothing ideas that might someday turn into something I keep hold of. You never know. One day these put away thoughts might well hold the key to my success.
I'm writing a novel right now – a Y/A one which I actually and genuinely love. I think, for a little while, I forgot what it could be like to let yourself get lost in fiction and how it feels for a project or a story to completely engulf your own world, for it to be all you think about.
I'm ashamed to admit it but as I got older I lost that creative bubble I used to never peep out of. I thought this was normal. I slowly became focused on the editorial side of writing that my fiction world consequently never even got past page 20 because I would slam it so hard it couldn't fight hard enough to breathe. I was, to use a cliche, my own very worst critic.
I was beyond brutal with my own writing.
But this summer I've conquered that bad habit. I've been writing. (Ergo, sorry for the lack of posts). I've been getting lost in my own fiction world and I've almost successfully written an entire novel over the course of this long, hot and notoriously beautiful summer. (I live in Cornwall, so almost every day is beautiful here, yay!)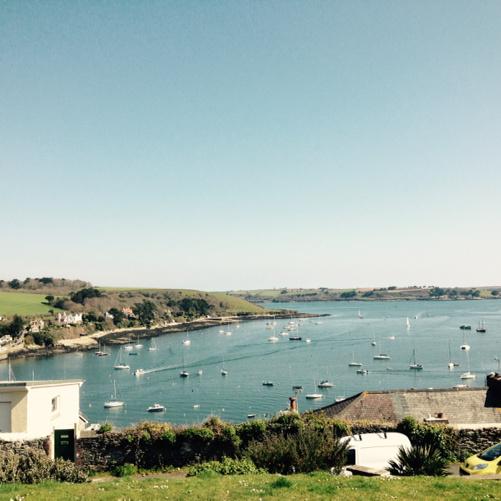 (A view from just over the road where I live)
I even signed up as a camper at Camp NaNoWriMo and even though I always seem to do this and it never usually gets me very far, this time I stuck at it and I completed my goal of writing over 10,000 words in a month. I can't tell you the joy I got over achieving that goal.
For me, it was pretty phenomenal. So I'm carrying on with it.
You ever read a book and think, 'I could've done better than that'? Well, it turns out that I'm doing it, even if only just to say that I've written a complete novel.
I don't want to be someone who waits until their retirement to get everything out onto the page. I want it now.
I know that when I've finished, that's when the hard part really begins which is the editing process. Apparently, this is where a lot of the real writing gets done, to quote the theory books and all the other famous writers out there.
But I'm moving forward. I'm at just over 46,000 words so far and I'm probably not going to stop until I hit 80,000 which is the average length of a complete novel. As well as that, I've also found the time to submit to other writing competitions. I've hit a productive writing/creative streak and it's not stopping.
My thoughts in general are that this summer has been a blessing. But in the end, I know, it all comes down to yourself.
Your motivation.
And whether you believe in yourself to do it.
And maybe if you can't, then find someone else who does. Ride their motivational current to get yourself where you need to be.
You never know, it might be worth it in the end.
So, be right back. I'm novel writing.