Right now I'm writing at university because it's warmer than being in my house. This is a legitimate reason. I am not kidding. But writing on campus can be fun because:
There are no distractions
It's a working environment (so I actually feel like I should be doing something instead of tweeting.)
It's really quiet here right now because it's evening!
So I've set myself a deadline. By the end of tonight, as in midnight, I will have written 1000 words to the opening of my new novel-in-progress which is – ta dah! – all about the Deep South … as in Texas.
Because I love it.
This new novel is a project of mine which I have been striving towards since the very first year of my degree. I've been holding off until now to write about it and now it's here it's kind of terrifying. The novel project is a part of my dissertation, which is all about the Deep South and the ideology of the cowboy as a romance figure in literature.
So my novel is a cowboy romance set in Texas. *unbelievably happy about this*
I'm writing different beginnings to the novel so far and I'm going to keep writing until I hit the one which I know is right. So far, I have four different openings. I think I know which one I love best, but I know it's not quite there yet. More work needs to be done!
But, like Hemingway famously said, "the first draft of anything is shit."
I think I always come back to that piece of advice when I'm writing a first draft and finding it hard. Because if you can't have faith in Hemingway as a writer, then who else are you going to believe in?
For research, I've been reading snippets of DEEP SOUTH by the wonderful travel writer Paul Theroux which came out late last year. (I don't know how many times I stroked it in bookshops before actually buying it. Sorry Waterstones.)
I read this book in the sunshine today and it was bliss. I'll probably write a raving reveiw of this book once I've finished it but I'll tell you right now that this book is amazing. It really gets you into the mindset of the South and opens up a world perhaps not so explored in travel writing. It's a world of vivid colour and backroads and thrift stores located on old highways, where "the past is never dead" and where "poverty is well dressed in churches, and everyone is approachable".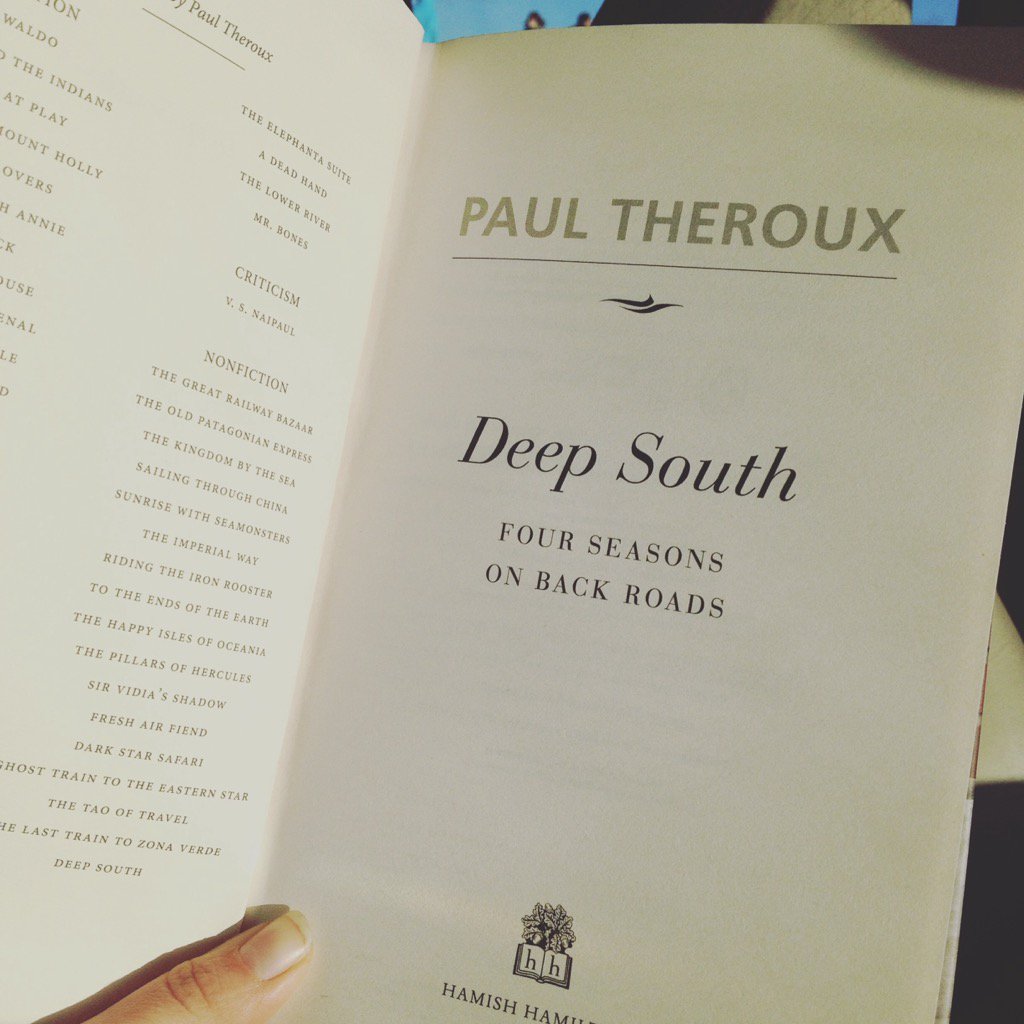 It's a world I can't wait to get into and one which I find hugely inspiring (hence the idea for the novel). I've always loved the South ever since I was first pulled into country music.
So today I pored over its pages, ready with a bright pink marker pen to highlight certain passages, and fell a little bit in love with it all. So tonight, I aim to write about it. Or at least develop some ideas about it which I can one day turn into fiction.
I'll try and keep you updated on how it goes along as I try and figure it out.
In the meantime, it's back to writing!